TO24 Campaign
The Campaign for the Edinburgh Academy's next century


The Edinburgh Academy has created an ambitious Masterplan to improve its Senior School site in Edinburgh's New Town by the time of the School's bicentennial in 2024. The Masterplan provides the strategic framework for the development of the campus and will deliver outstanding facilities which support the School's aspirations for academic excellence.
The Edinburgh Academy has always strived to develop young people with vision, courage and creativity, ready for the radically different world of opportunity and work beyond school. The Masterplan will create a school that is focused on the future and equipped to deliver the skills and learning that pupils require to be successful in the 21st Century.
The Edinburgh Academy has always kept pace with the times and kept alive the vision and energy of our founders—Lord Henry Cockburn and Leonard Horner—and their fellow Directors. As our bicentenary approaches in 2024 we are facing a pivotal moment in our history: to create a truly future-ready school offering inspirational learning and opportunities which equip our students for a rapidly changing world. The Academy has never shied away from a challenge and our TO24 objectives are ambitious. We intend to significantly redevelop our campus, maintaining our heritage site while extending and improving provision across a range of subjects.
Approved by the Court of Directors in January 2018, the Edinburgh Academy TO24 Masterplan provides the strategic framework for the development and improvement of the school campus. It ensures we will have a forward-thinking infrastructure, responsive to developments in teaching and new technologies, and prepared for increasingly agile methods of learning. Phase 1 of the Masterplan delivers a new building, the Learning Commons: a flexible, multi-functional, learning environment; a discovery hub where all our learners, both pupils and teachers, experiment and explore, build connections and expand learning in new and exciting ways.
The Learning Commons is at the centre of our TO24 Masterplan. It will transform the eastern boundary of our campus by developing a unique learning space, uniting the traditional seat of learning, our school library, with the James Clerk Maxwell Science Centre, currently our most modern building. The Learning Commons will provide us with a high quality and inspirational setting for education and equip us with much needed space for the continued pursuit of academic excellence.
'Our Masterplan development seeks to create a campus fit for the future. Good spaces inspire, stimulate, challenge and support pupils – they assist the learning process and encourage the development of pupils' skills through new interactions and experiences. I believe our proposed expansion will develop even further our pupils' readiness for the world and create a genuinely collaborative environment.'

Barry Welsh, Rector
Download the brochure to learn more: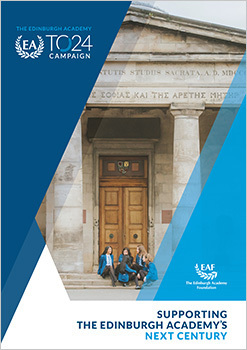 Get in touch and become a part of EA History
If you would like to make a donation, please contact the Development & Alumni Relations Office. To begin the conversation, please get in touch: +44(0)131 624 4958 / development@edinburghacademy.org.uk
Follow us on social media to be kept up to date with news and events:

@AcademicalClub

/theacademicalclub

/Academicalclub
---
The Edinburgh Academy Foundation. Scottish Charity Number SC027543. Registered as a company in Scotland – SC181779. Data Protection Policy and Gift Acceptance Policy